'Look back, the path you traveled! That's the best teacher of all!'
Don't you all agree?
I take this opportunity to look back at my toastmaster's journey and share with you the story behind my humorous speech division contest, Toastmasters International. Honestly, I volunteered to compete in the contest, since there were no members representing my club. Then it was time to draft a speech which should be amusing, appealing, and the speech should win the contest.
Every speaker, Toastmaster, should have been at this point questioning themselves. What could be the content of the speech? Fellow Toastmasters, and friends; if it's still a question for you or your mentees and new members, here is the answer, 'anything and everything could be a speech'. Every day of our life, you would always want to share those with your friends and family. Write those memories, just like you write a journal, prepare drafts as you speak, and receive feedback.
That's what I did. I wrote a personal story, received feedback, and incorporated them in my speech. What else could be the best content to present, other than your personal story. No one knows your story better than you, and that's the key. That's what I believe, and all my speeches and blogs (Inside Out) are my personal stories, personal experiences.
Once you design your content, how do you develop it to be more appealing? I closed my eyes to bring those events frame by frame in front of my eyes. I relived every second and brought a hilarious story out of my experience. This practice helped me develop more creative, spirited, and an animated speech.
Then I moved to the implementation part. I strongly believe the best implementation happens only with sincere practice. So not only my club (MacToast Toastmasters Club, Atlanta), but I also practiced with all the other Toastmaster clubs, around the world. I posted on the Toastmasters International Facebook page asking for speaking slots. Thank you to all the clubs who gave me a chance to practice. Effective feedback is a brilliant component of Toastmaster pathways curriculum. It's the feedback that helps every speaker improve their speech. I took all the appropriate feedbacks and implemented them in my speech to make all the necessary changes, which turned my speech into a beautifully tamed sculpture.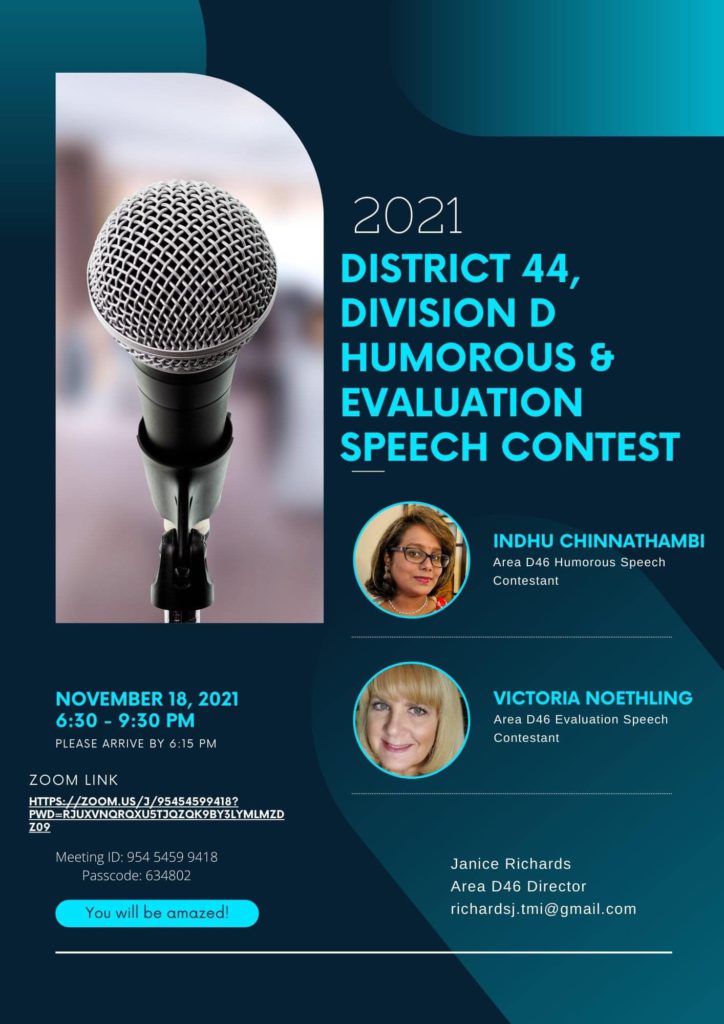 Hard work, determination and perseverance were all the key inputs required to win, and I had those. Not only on the content, but I also worked on my voice, body language and other parameters required for a winning speech. The virtual stage presence is something new I practiced in my career.
The day came, and I was the winner of the humorous speech division contest 2021. This win increased my responsibility. I should do much better on the bigger stage. Time for paying gratitude. I would like to thank my husband, who has been content with most of my speeches, and my mentor, who supported and encouraged me throughout my toastmaster's journey. I would also like to thank all the Toastmasters who gave me constructive feedback and helped me deliver a winning speech.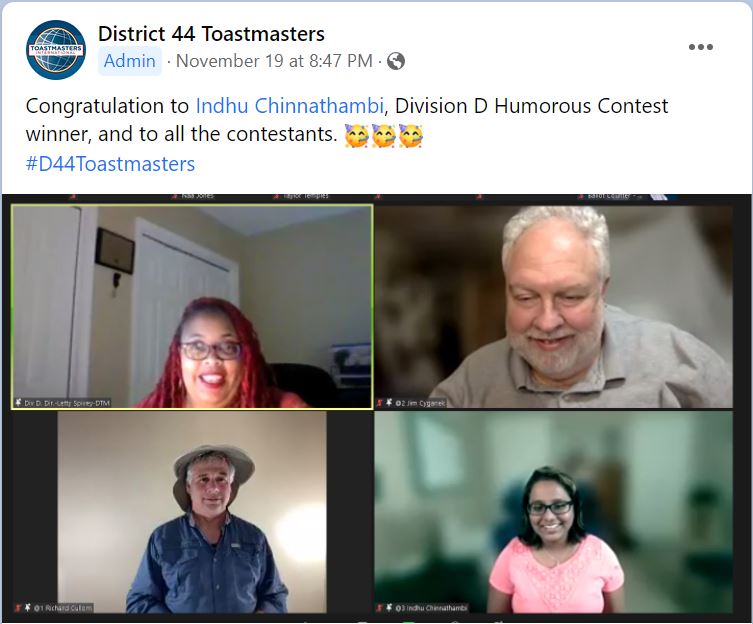 Fellow toastmasters,
Prepare, Practice and Present
Are the key to success, and that's what I would like to share this evening, along with my story.